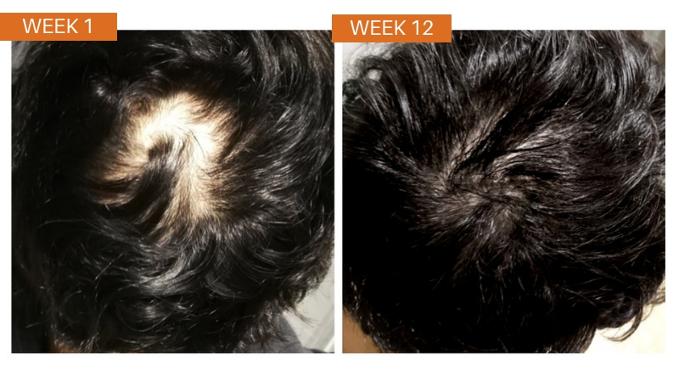 "Dramatic slowing down of hair fall" ★★★★★
This is a very good anti hair loss supplement. I am now on my third month of taking HR23 and the results have been positive so far. I have noticed a dramatic slowing down of hair fall and an increase in hair thickness. My wife has confirmed to me that my hair looks healthier. Additional things have I have noticed are that my nails grow quicker and are stronger. The additives in HR23 seem to be working for me so I'll stick with it and see what happens over the coming months. I was taking TRX2 for a year and it did pretty much nothing for my hair loss, so I'm glad HR23 offers me an effective alternative to my hair loss problem.
- James Keane, East London.

"The change in my hair is amazing and quick" ★★★★★
I am happy to share with you that I really am a huge fan of the HR23+ tablets. In October 2014 I ordered my first bottle of TRX2 tablets having seen the advertisement in a Norwegian Air Travel Magazine. I was happy with the slightly healthier look of my hair that I purchased two more bottles and religiously took the tablets every day. However, when read testimonies about the HR23+ tablets on your website, I started ordering this brand instead and the change in my hair was amazingly wonderful and quick. I am almost 61 and after taking the HR23+ tablets all this year my hair is so thick that its unbelievable and I feel like I have my 'teenager' hair back again. One of the signs of ageing for women is definitely thinner hair and so I'm over the moon at the effect of the HR23+ tablets on my hair plus the stands are noticeably stronger. The HR23+ tablets really work and with thick hair again its another way of trying to 'turn back the clock' on my lost youth, without any drastic medical procedures. I know my colleagues at work look at my hair and just last week, one of the ladies even commented on how I have such thick hair and so I shared my secret with her. I'm happy to tell all about the HR23+ tablets because they are wonderful. I never thought I'd be able to have thick hair again.
- Judith Connelly, Hackney, London .

"Less hair fall, stronger hair growth" ★★★★★
I noticed less hairs falling out when brushing my hair (within 3 weeks of taking).
My nails strengthened significantly and they grow at a faster pace now (had very brittle and mechanical damage prone nails before). My hair seems to have more shine and it is more resilient to knotting . My energy levels increased and physical fatigue is almost non-existent (PABA and Biotin, complex of vitamin B) . I noticed less blemishes on my complexion over the course of the last month . HR23+ helped me stay more productive even if I have to do my creative work late at night (Gingko Biloba, Green Tea) . My skin started feeling softer and silkier to the touch which must be thanks to Grape Seed Extract, Silica, Zinc, Vitamin C .
- Anna K, from Pamper Point, Health & Beauty blog .